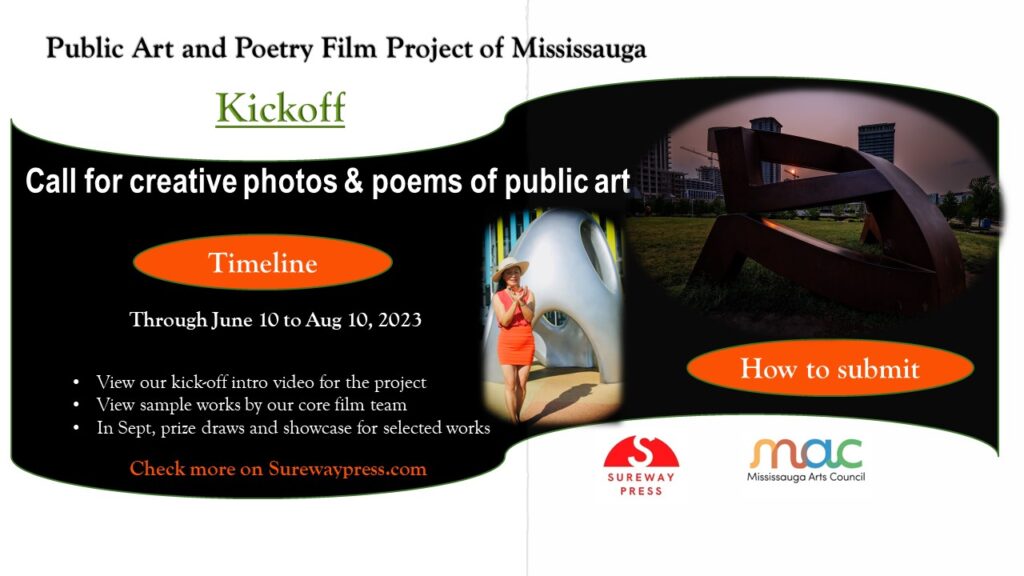 Mississauga is home to Indigenous peoples and diverse ethnic groups. Public art is vital to connect communities and showcase cultural identities.
When I was Mississauga's inaugural poet laureate, I envisioned a project that would link poetry and public art in a collaborative film. To realize this goal, I enrolled in an eight-month course on film-making in 2021. With teamwork, we made a short film for which I served as producer. The success of my "Here and Now, Discover Mississauga and More" haiku project last year greatly encouraged me. As a result, I have initiated a new project with enthusiastic support from local artists and sponsors.
I was glad that MAC granted this project, now we can start it in June, 2023 with this call for creative photos about Mississauga's public art. This is open to all Mississauga residents and others. You will find some fine samples from the team, and public art locations in Mississauga, please send us your creative work to [email protected] with subject of "public art and poetry film project".
In August, we will select the appropriate poetry and photos to showcase on this website and social media, we will also have prize draw for the lucky ones.
Thank our sponsors: MAC, AGM, WUC, Triple J Canada, Kaideed Education for making the project to take form!
Here is a short video for reference: Public Art: Contemplating Child by Ferruccio Sardella

Here is a glimpse at Jay Havens' mural at Meadowvale Theatre from City of Mississauga Youtube channel.