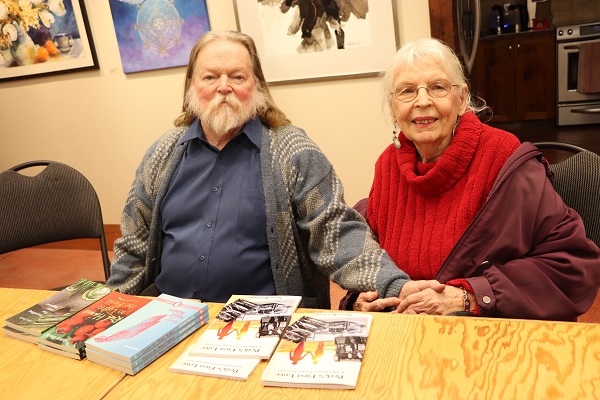 James Deahl is the author of twenty-eight literary titles, the three most recent being: Travelling The Lost Highway, Red Haws To Light The Field, and To Be With A Woman. A cycle of his poems is the focus of the U.S. television documentary Under the Watchful Eye. He lives in Sarnia, Ontario, with the writer Norma West Linder.

Norma West Linder is the author of seven novels, fifteen poetry collections, two children's books, a collection of short stories, a play, a memoir, and a biography of Ontario Lt. Governor Pauline McGibbon. Her selected poetry, Adder's-tongues, was published by Aeolis House in 2012. She is the mother of two daughters and a son. Linder lives in Sarnia.
Little Boy Lost by Norma West Linder
It's difficult to write
about a child
who, according to
the newspaper account,
begged to go back
to his mother in Jamaica
who wanted him
to have a better life
in Canada.
The words
keep getting
soaked with blood
keep slipping
through the cracks.
A quiet little boy
the neighbors said
— a little boy
who didn't go
to school.
After his stepmother's
final beating
the pathologist
found a tooth
in his stomach.
Of Carp And Flowers by James Deahl 
Love Poetry Festival, Ward's Island
The sandbagged Snug Harbour flooded, we moved
our luncheon inland. The most frantic rains
in seven decades inundate shoreline
and Ward's Island, presage worse things than we
can predict. So we dine on Peking duck,
noodle-wrapped shrimp, and endless oolong tea.
Carp thrive where the poetry festival
was to be, Norma and I called to share
our bond of love, our latter-day version
of Milton and Gwendolyn, their love,
like ours, undying; our union, unlike theirs,
untragic. We don't even mind these carp
frolicking through affection's flowerbeds.