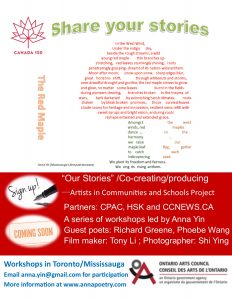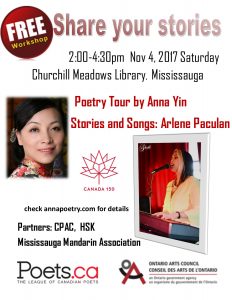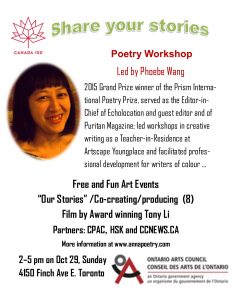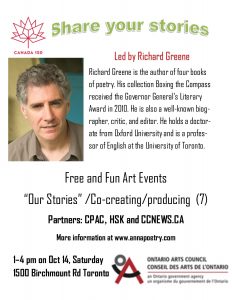 Our Stories Co-creating and Sharing project
Our Stories Co-creating and Sharing project creates cultural and artistic experiences and produces multi-cultural poetic stories for public presentation.
This project encourages participants to express and present their stories through poetic reflection and computer arts; creating a cultural awareness in the wider society.
As a Chinese immigrant, I fully understand the challenges of language and culture. During my struggles, I found poetry opening a door to connect my life with various cultures and wider experiences. I wrote about these, not only building confidence in English but also finding hope and peace. Now I have published six poetry books and received good reviews that have inspired many immigrants, especially those from China.
On my poetry journey, I have received enormous help and support from poets, friends and a broad range of communities. I followed their example to help others and designed Poetry Alive educational programs combining computer arts and live audience participation for schools, colleges, libraries, and communities in 2011. Since then my programs have not only stimulated young students but also helped other artists and non-art professionals.
In 2013 I was elected as the Ontario representative for the League of Canadian Poets, in 2015 I was appointed as the Inaugural Poet Laureate for the City of Mississauga. Both positions gave me great opportunities to develop my skills as a poet and a mentor.
In 2016, I received a grant from OAC to host Ottawa-Mississauga Haiku/Postcard Poetry Workshops. They were efficiently and successfully conducted.
As a sequel, I have been asked to extend my programs and provide more cultural bridging projects to various communities especially for Chinese immigrants and young people.
I believe we all have stories to share, and our stories and experiences can inspire each other and become a part of our community. I hope Our Stories project will become a new cultural bridging vehicle emphasizing personal growth and family education for people of color to encourage them to share their life experience and co-create enhanced cultural and artistic experiences, producing authentic multi-cultural stories for public presentation.
I was glad that CPAC and HSK were my partners for this project.
CPAC (Cross-cultural Professionals Association of Canada) formerly known as Chinese Professionals Association of Canada, is a non-profit organization. In the past, they have invited me for educational programs as a guest speaker and host Poetry alive workshops for their Leadership Club.
HSK Toronto Centre – Youth Chinese Talent Panda Summer Camp. The center serves GTA Youth and Communities, explores Heritage Language and Culture.
In June, 2017, the Ontario Arts Council was awarded me a grant to carry out this project.
Now we have completed nine workshops in GTA. I built this website to host works, photos, videos and interviews for these workshops.
I hope this site not only stores the project and shares these experiences, but also encourages more people to continue exploring and sharing new ideas and stories.
Here are some showcase works from participants (before/after)
Finally, Let me thank CCNEWS for reporting our workshops
Thank SnapD for covering our events.
Thank our partners: CPAC, HSK and CCNEWS for all their support.
Thank OAC for the grant and for supporting many artists.
Yours truly,
Anna Yin
Nov 5, 2017