To Celebrate National Poetry Month, Sureway Cultural Services and Global Generations are happy to host Poetry Reading and Discussion On April 26, 10:30-11:30 am (Free admission)
on the second floor in the multipurpose room
At Churchill Meadows Community Centre. 5320 Ninth Line, Mississauga, ON L5M 0R5

Poetry Reading by Anna Yin, Music by guitarist Mark Harry.

Poetry and Music will be at 10:45-11:00am, haiku games and short poems reading and discussion will be 11am-12pm.
All are welcome to join us to enjoy and explore the beauty of poetry and catch small wonders from our daily life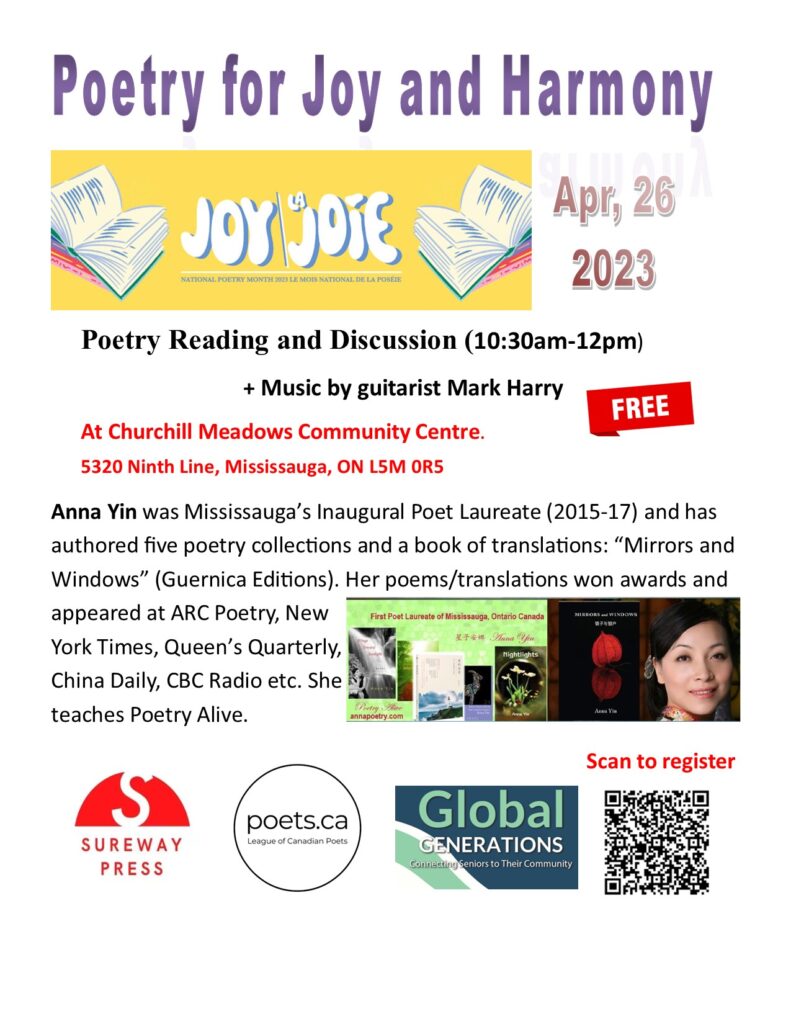 Anna Yin was Mississauga's Inaugural Poet Laureate (2015-17) and has authored five poetry collections and one collection of translations: Mirrors and Windows (Guernica Editions 2021). Anna won the 2005 Ted Plantos Memorial Award, two MARTYs, two scholarships from USA and grants from Ontario Arts Council and Canada Council for the Arts. Her poems/translations have appeared at Queen's Quarterly, ARC Poetry, New York Times, China Daily, CBC Radio, Literary Review of Canada etc. She read on Parliament Hill, at Austin International Poetry Festival, Edmonton Poetry Festival and universities in China, Canada and USA etc. She has designed and taught Poetry Alive since 2011.
Mark Harry is originally from Detroit, Michigan born of Greek and Spanish-Mexican heritage. He was raised in a musical home which allowed him to learn the piano and trumpet, at an early age. By his teens, Mark showed a strong interest in guitar, which led to many years of studying both classical and jazz guitar. When Mark later moved to Toronto he continued classical guitar studies and then, moved into flamenco guitar.
Mark's solo guitar sound is a blend of Spanish Flamenco, Mexican Folk, Latin Jazz and Pop. Mark composes and arranges all of his music. He plays his brand of Spanish guitar at cafes and clubs in the Greater Toronto Area. Mark has appeared several times on Rogers Peel TV entertainment show "Night Time" as a featured musical guest.
Mark also performs with Anna Yin, writing music and playing guitar to some of her poetry works. Mark's second CD, "Into The Night" which was recorded and produced by Juno Award-winning recording engineer, Justin Koop. Mark Harry works at the Merriam School of Music in Oakville and resides in the city of Mississauga, Ontario.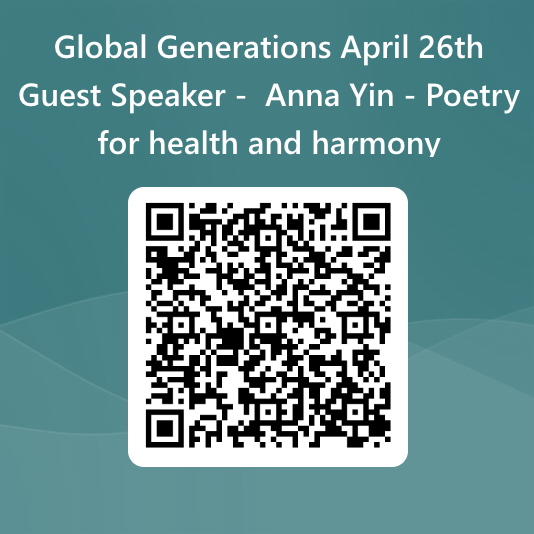 Please register for this free lunch and learn event by click here the QR code.
Thank all our sponsors: SureWay Press, The League of Canadian Poets and Global Generations