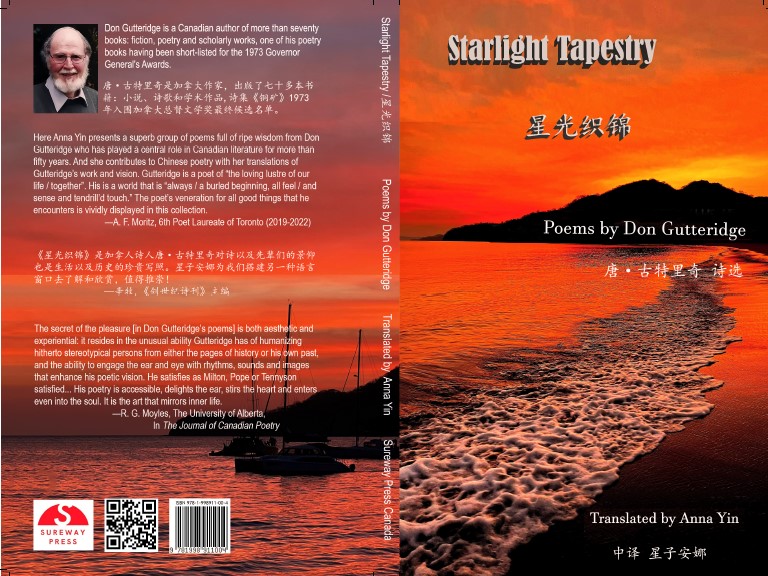 星光织锦是加拿人诗人Don对诗以及先辈们的景仰,也是生活以及历史的珍贵写照。星子安娜为我们搭建另一种语言窗口去了解和欣赏,值得推崇!–辛牧 (《创世纪诗刊》主编)
In Don Gutteridge's Starlight Tapestry, Anna Yin presents a superb group of poems full of ripe
wisdom from a poet who has played a central role in Canadian literature for more than fifty
years. And she contributes to Chinese poetry with her translations of Gutteridge's work and
vision. Gutteridge is a poet of "the loving lustre of our life / together". His is a world that is
"always / a burled beginning, all feel / and sense and tendrill'd touch." The poet's veneration for
all good things that he encounters is vividly displayed in this collection.
—A. F. Moritz
Don Gutteridge is a Canadian author of 70 books: fiction, poetry and scholarly works; one of his poetry books was a finalist for Governor General's Literary Awards in 1973. He taught at Western University in the Department of English Methods. He is now professor emeritus and lives in London, Ontario.
唐·古特里奇是加拿大作家,出版了70本书:小说、诗歌和学术作品,诗集1973年曾入围加拿大总督文学奖。唐·古特里奇在西安大略大学英语方法系任教多年。
Anna Yin was Mississauga's Inaugural Poet Laureate (2015-2017) and has authored five poetry collections and a book of translations: "Mirrors and Windows"(Guernica Editions). Her poems/translations won awards and appeared at ARC Poetry, New York Times, Queen's Quarterly, China Daily, CBC Radio etc. She teaches Poetry Alive. Her website: annapoetry.com