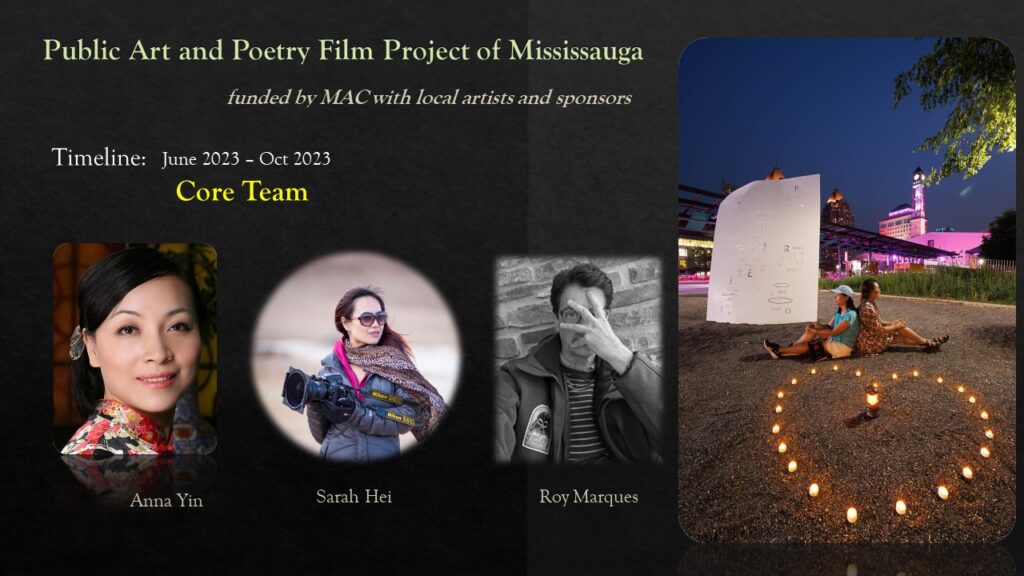 Project leader: Anna Yin
Anna Yin was Mississauga's Inaugural Poet Laureate (2015-17) and has authored five poetry collections and one collection of translations: Mirrors and Windows (Guernica Editions 2021). Anna won the 2005 Ted Plantos Memorial Award, two MARTYs, two scholarships from USA and grants from Ontario Arts Council and Canada Council for the Arts. Her poems/translations have appeared at Queen's Quarterly, ARC Poetry, New York Times, China Daily, CBC Radio, Literary Review of Canada etc. She read on Parliament Hill, at Austin International Poetry Festival, Edmonton Poetry Festival and universities in China, Canada and USA etc. She has designed and taught Poetry Alive since 2011. Her website: annapoetry.com Email: [email protected]
Sarah Hei is a free Lance photographer in Mississauga Ontario. She won several awards including Gold medals in 2022 My Country Club Competition & 2017 International Photograph Festival, Silver medals in 2017 Nature Club Competition, 2023 Ontario Zone Club Competition & 2023 Man made Structure/object.

Roy Marques is a Director of Photography accredited by the Canadian Society of Cinematographers, Full Life Membership. Mr. Marques specializes in High Definition Digital Cinematography, Medium Format Photography. His credentials are listed in the CSC website. Short films he made can be viewed: https://www.youtube.com/watch?v=FSrNTOEcouo