Had a great time and met many people at #RideForHeart. Took some photos and wrote some haiku-ish for that… thank you all for support and donation of money or haiku...
medal for each
four on one bike
cheers in morning breezes
*
where are you?
at the finish line
I capture the passing of others
*
fun to check up
my heartbeats go fast
many rounds of riding
*
waiting to walk
they hold heart haiku cards
cheering Ride for Heart
–June 4, 2018
Anna Yin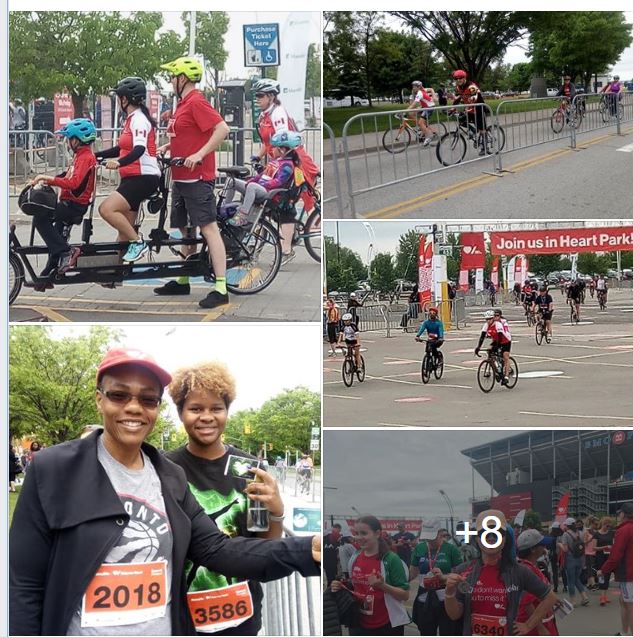 ————————————————————————————————————————————————–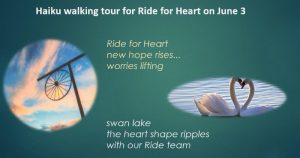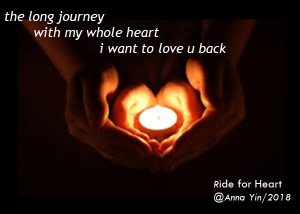 Because I believe a healthy and happy life is very important, I am fundraising for the 2018 Manulife Heart & Stroke Ride for Heart on June 3. Your donation will push forward life-saving research like this and more and fund incredible breakthroughs to create more survivors of heart disease and stroke!
I choose to walk in the event because I want to do both Walking and haiku writing so that I can write about what I see and feel along the journey. Haiku is a three-line short poem. Everyone is welcome to join me to experience it. It is a healthy and mindful way of living. Here are some examples I wrote to start…
Today I sent my call for submission "Heart Haiku" for Ride for Heart 2018, I am happy to see that many haiku from US, UK and Canada have arrived.  Here is the link for Heart Haiku from Ride for Heart supporters.   I will keep adding more. After I collect them, I will make small cards like the above samples and distribute them while I am walking for Ride for Heart.
For donating to Ride for Heart, please click: http://support.heartandstroke.ca/site/TR/RFH2018/RFH2018?px=2002868&pg=personal&fr_id=5303
Thank you.
 Anna Yin
May 4, 2018