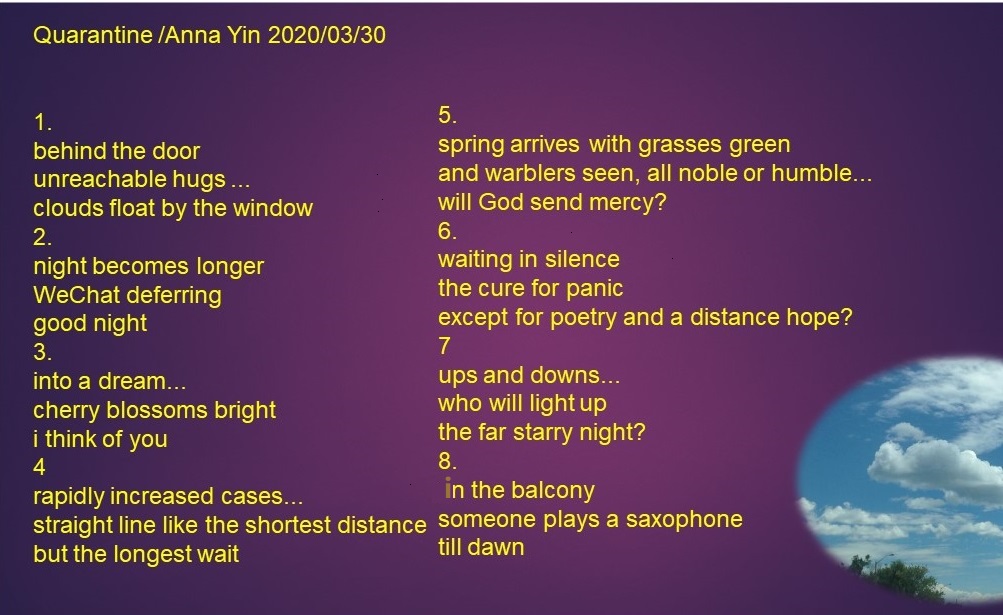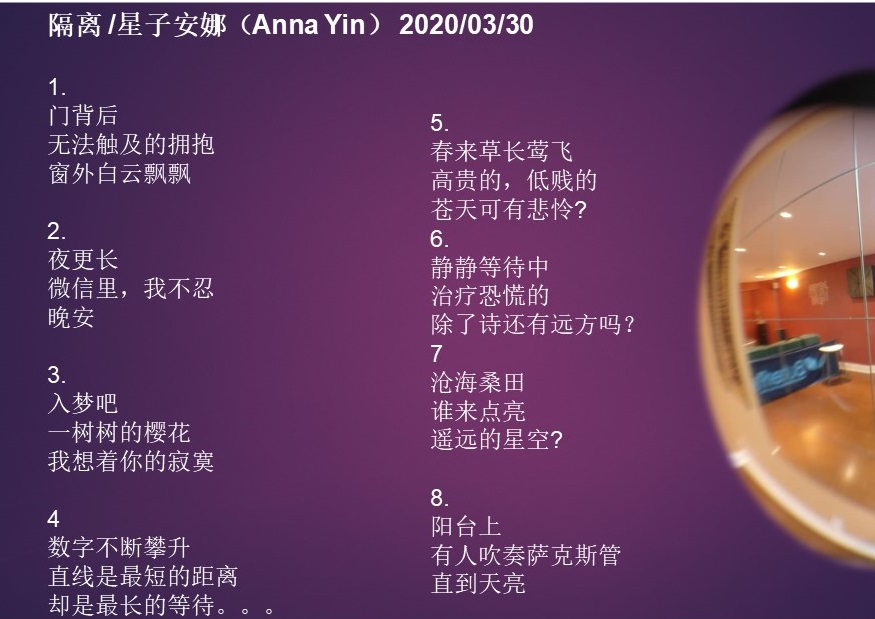 Waiting for You in the Sunlight
News of epidemic spread everywhere;
our anxiety and worries grow .
Yet the sun shines brightly and warmly,
birds are seen here and there.
Masks mailing to you are still on their way;
my heart waiting for you has set out flying.
I hope the spring will soon blossom,
and folks sing happily and freely.
Wandering in the woods at the moment,
I stare at the setting sun;
opening my hands to catch the distant light,
I long for a new day to come.
My dear, remember-
I am waiting for you in the sun light.
在阳光下等你/@2020/3/15
到处是疫情的消息,
到处充满焦虑。
而阳光温暖地照耀着,
鸟儿又四处可见。
寄去的几个口罩还在路上,
等你回来的心却在飞翔。
但愿那时春暖花开,
人们敞开心扉歌唱。
此刻在林中散步的我,
注视着即将降落的太阳,
伸出手掌去捕捉远去的光亮,
期待新的一天早早到来,
亲爱的,请记住,
我在阳光下等你。
写在雨水之后/星子安娜 02/19/2020
立春过后,便是雨水。
老黄历又撕下了一页。
灌木丛中心急的鸟雀飞出去,
像一把撒向空中的种子,
只是不知飞落何方。
江南的水乡无边寂寞,
一叶扁舟雾里来,雾里去,
昨夜漂在我的梦里。
北方的雪还是没有融化,
心中的诗句删了又写,
写了又删,就像田里的野草
割了又长,长了又割——
留下屋檐一串串冰凌,冷冷地闪光。
漫长的夜里,谁与我以雪煮梦,
忘记世间百态,忘记歌舞盛世,
再次记起那卖火柴的小女孩,
和那为众人抱薪的无名者?
在干净的雨水里,素面朝天,
等待春暖,等待阳光刺透?
songs from Nature
I pause to listen…
in this cold winter
*
feathers rise somewhere
I hope you
land safe
*
spring returns
sick and tired souls
weeping no more
-anna yin /2020/02/11
Ask /Anna Yin
Who has covered the Mouth of Truth?
Now all the invisible souls
wearing masks weep…
天問 /星子安娜
誰給真理之口戴上了口罩?
所有隱形的靈魂呀,
戴著口罩哭泣。。。
A Song for Nameless Heroes (trans by Anna Yin)
When our city is hushed by infection,
storms smash it with no prediction;
but fearless heroes rush to rescue
even knowing danger waits ahead.
When we say goodbye to theaters
and pause gathering for the moment;
so many nameless volunteers race
to offer their hands to save our lives.
At the moment of departure,
each one's eyes are tearful.
Remember the vows in your heart;
each minute passing,
each silent effort,
we all promise "So long for now".
Facing the camera, you smile.
your smiles are so bright.
But being shorn isn't easy for you;
in fact, you are also scared,
yet you pretend to be brave…
So many touching stories like this,
Each story is a warm sun for us.
No matter worn and exhausted
you say you're used to it –
for the cold world, there must
be someone to warm it up.
I think I see a star not afar.
I know the star is each of you.
No need to be afraid anymore.
No need to be afraid.
When we lay down yesterday 's troubles,
we will embrace more stunning wonders.
Rainbows appear after storms for a reason,
for you give out your warmth all the time.
Perhaps dawn is almost ahead,
your smile is even sweeter.
Yet dare not relax for a moment.
Regardless of wind and rain,
no matter how difficult it is,
remember the smiling faces in your heart.
And we remember your warmth in our hearts.
You are our heroes.
You are the bright stars.
Thank you for your rescue.
Thank you for your warmth.